III
This is the Harmony of the Universe, that love
unites the Will to create with Understanding
of that creation: understand thou thine own
Will
Love and let love.  Rejoice in every shape of love
and get thy rapture and thy nourishment thereof.
Aleister Crowley,
The Book of Thoth

The Empress represents the nurturing spirit at play in the world, that which encourages growth and fertility and causes us to use our senses in wonder and admiration for the beauty of life and the balance that holds its truth.
Life will prevail and rise from the blasted earth or in the depths of the deepest oceans in sulfurous volcanic vents and there is the strength and will within all living things to create and carry on the song of life that surrounds us.

You may need to use your intuition or sense of spiritual balance to come to grips with an issue you are struggling with. Or, you may need to seek the help of a nurturing person or a place that you find regenerative in order to heal or recover from a shock or grief.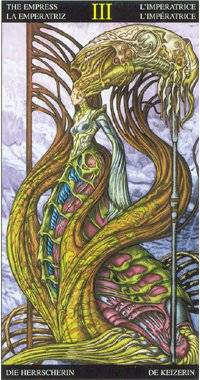 Learn how to create your life in a more fulfilling way and seek out experiences and teachers who can light a path to growth and development.

If you judge people, you have no time to love them.
–Mother Teresa of Calcutta

You are seeking a family to belong to or a circle of supportive friends who can mutually give life to each others dreams.